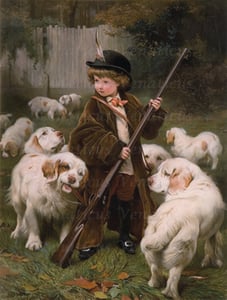 £

44.00
This new offer for Clumber spaniel enthusiasts is a work of art that is both delightful and different.
The New Keeper is a charming composition of a boy – probably the young master dressed up in gamekeeper's attire of coat and bowler hat, and with a muzzle-loading gun, all much too big for him – where he is the centre of attention for a whole kennel of Clumbers. The scene suggests a location on one of the big sporting estates in Victorian England.
The New Keeper is now available, in an edition limited to 500 hand-numbered prints, size 18 x 22½ in. (45 x 57 cm.), including a 2 – 2½ in. (5½ – 7 cm.) border.